Loki it's a first generation offspring from Alice in wonderland that belongs to Chisel's-on-the-way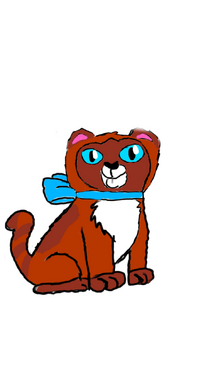 Personality
Edit
Loki it's very mischievous. He's always making mishaps happen anywhere he goes. He also is very curious. Here explores anywhere he can stick his paws in. He's always there for his sister's, Snowdrop and Kitten, however and would never let any of his loved ones get hurt. When he went to Disney Academy he found that he was good at painting in his art class, when his first friend there introduced him to it. His first friend was Toulouse, the orange cat from aristocats. Also at DA he met Clarity, and was immediately attracted to her. They always hung out and he never stopped blushing around her. He loves going to wonderland and having tea parties with the Mad Hatter.
Tba
When at DA he was at lunch and he saw a little striped cat sitting by herself. He walked over to her and saw her beautiful blue eyes. He stuttered and mumbled but he finally got out the phrase"Are you ok? Your not sitting by anyone so...". She laughed and said she is ok, just feared by many. He suggested if he's sit by her then she thought that that would be great. They introduced themselves and he remembered the word "clarity" forever. He was scared to tell her his feelings so they hung out for a long time, at DA, the mad Hatter's tea parties, and many more places around town and wonderland. He finally confessed at DA's winter dance when Fang was bullying Clarity. He let all his feelings go when he was trying to protect her and they've been together ever since. 
Likes: exploring, playing with clarity, going into forests, wonderland, mud, bugs, Alice, the mad hatter
Dislike: getting groomed, getting yelled at, 
Fears: the chessheire cat, the Queen of hearts, 
Crush: Clarity
He used to be afraid of falling but he got out of it
With his fear of falling, it was hard to go to wonderland the first few times with Alice
When he's in wonderland and Disney Academy he's voiced by Chase from paw patrol
He gave Clarity a necklace for their first date
Community content is available under
CC-BY-SA
unless otherwise noted.