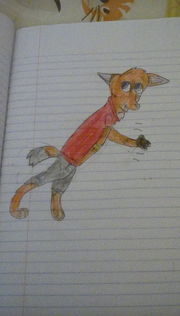 kaylien wilde belongs to Eva
 kayilen Wilde is the youngest kid of Nick and Judy , her brother Hunter Wilde    was a six  year old when she was born  . She loves her brother so much and the rest of her  family . she always loved to draw designs when she was around the age of 6  , So  later around her teen years she started   to make  clothing designs  , So when the years flew by she made enough money to open a shop full of all of she cloths made bye her , Her parents were very proud of her and her brother . She help out her family alot to . Helping out is one thing that she loves to do . Darla spent a lot of time at school , and helping her family around . Around her teen hood she falls in love with a boy fox named Ravi , and in there adlut hood they have a boy named Nick jr and a girl named Avery .
family

Hunter Wilde = brother .

Nick Wilde = dad

Judy Wilde = mom

Leandro Wilde = cousin

Danny Wilde = uncle

Lani Wilde= aunt

Robin Wilde = Grandfather  

Marian Wilde = Grandmother .

Appears .: 

She has purple eyes like her mom orange fur and a gery tiped tail.and has tan fur on her chest . Trivia .

She is sly sometimes like her father .

She loves to eat donuts . 

She my first oc on this fanon .

gallery :