Fatherhood is a story by PrinceBalto.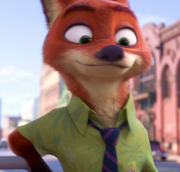 Premise
Nick speaks on the birth of his and Judy's son, Hunter.
Story
My name is Nick Wilde, and I am about to become a father. I am overjoyed.
My wife, Judy Wilde, is about to bring our first child into the world. I am overjoyed. This is the greatest delight of my life. I couldn't imagine my life without Judy, and certainly not without our child. Today is the day. She goes to the hospital, ready for the event, but very nervous. I can't blame her. I am very nervous myself.
I am more nervous than I have ever been in my life. Not since my wedding I have I felt this way. Judy's entire family has come from Bunnyburrow to be here. I sit with them. Judy's mother senses my nervousnes and tries to comfort me. I accept, to a point. I will not be ok until I see my wife and child safe and alive.
The time passes. I eat dinner with my in-laws. I eat a meal of fish and fries, though I can't keep the thought of her out of my head. Once I have eaten, I get a call from the staff. It is time. I rush up to Judy's room to be at her side. Then the wondrous miracle happens. My son comes into the world. I look at him. He looks like a fox with his mother's fur and one green eye and one purple eye, as well as a rabbit's nose and tail. My nervousness melts away, and joy feels me.
"I HAVE A SON!" I say in my mind. I want to say it out loud, but don't want to disturb the other patients who are also in the hospital this day. However, inside, I am shouting at the top of my voice with joy. Nothing can stop me. Finally, my life is changed. there is no going back. I am a parent.
I have my own son. Judy smiles and asks if I want to hold him. I do and she hands him to me. Nothing describes the joy that I am feeling. In that instant, we decide that we will name him Hunter. I give my wife a kiss as our families and friends come to see the baby. We couldn't be happier. I will cherish my son forever. He is perfect in every way.
I am so ready to be a father. I am ready for my son. He is the joy of my life.