Disney academy is the place where all Disney offspring children go to school at and was made by Chisel's-on-the-way. Mickey mouse found it.
Ownership
Edit
Disney academy is owned by chisel's-on-the-way and Crazyneonwolfx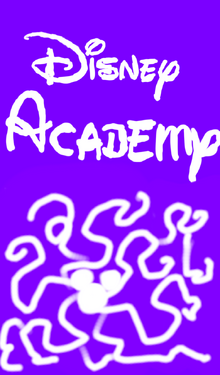 Appearance
Edit
Disney academy has the looks of a castle on the outside. The grey bricks, square pattern on the top [the thing that goes one square up, then no square, and so on], and it's tall appearance. But in the inside it looks like any normal school. It has the white bricks, metal doors, and rectangle lights on the white-spotted-with-grey-ceiling. The floor has black and white tiles that make black Mickey mouse every few steps. The library, however, has carpet. They have computers and up-to-date technology.
Staff (not the teachers)
Edit
Principal-Mickey mouse
Front desk person-Minnie mouse
Chef-Princess Tiana[Movie: The princess and the frog], Naveen [Movie: The princess and the frog], Remy [Movie: Ratituolli] and his rat family
Janitor-Molt [Movie: WALL-E] And his cleaning crew
Clinic-Baymax [Movie: Big hero six]
First grade
Second grade
Third grade
Forth grade
Fifth grade
Sixth grade
Seventh grade
Eighth grade
Ninth grade
Tenth grade
Eleventh grade
Twelfth grade
Collage
(I will make all there's links later)