Cassidy is the eldest daughter of Thomas O'Malley and Duchess
Apperance
Edit
Cassidy is a mirror image of Duchess. But she actually has some little orange dots and she wears a collar like her mom. (P.S I didn't draw I screenshot edited)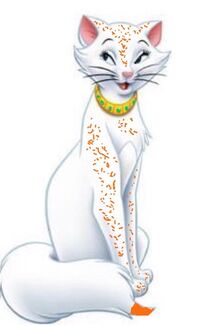 Personality
Edit
Cassidy is very Motherly like. With three younger siblings lifez crazy. She has to watch them all do their own thing! As tired and annoyed she can get with them, She loves them so much that no one could even describe it. Her mom is her idol, And she loves her layed back attitude. But you know Cassidy, She a Rebellious spirit, And loves roaming free. She has her bad moments, Where she gets in lots of trouble, But Cassidy, Is very intelligent. She knows when something's wrong. She does have her laid back times when she is so calm. Shes her daddy's girl, And loves him dearly. He loves her and wants to never let her go. Sometimes that annoys Cassidy, But she loves him. She loves Singing with Marie, And loves to ruff house with her two brothers.
Cassidy, As said is the eldest daughter. She was loved to bits by her mother. She was bored in life though, watching days and hours go by with nothing to do. She messed with Frou-Frou, But got bored easily. She chased Roquefort, But nothing sparked. Three years later, Cassidy finally had siblings. And then life got funnier and harder for Cassidy O'Malley.
Cassidys name means~Clever
Her "Daddy" is like a hawk and will swipe at any boy near her! (XD Poor cassidy!
People and family call her Cassie or Cass.
She loves Singing and is really good at it.
She is a rebel, but not a hothead.
She loves to "pawPaint" I should say, And does it in free time.
Her daddy calls her the most "Stunning cat he's ever seen" And he jokes with her all the time.
Cassie has a lot of self-Doubt, That people don't like her or judge her.
Voice Actors
Edit
Kitten: Nakieta Calame~Nala as cub
Kitten Singing: Laura Williams~ Cub Nala Singing
Teen: Neve Campbell~ Adult Kiara
Teen Singing: Liz Callaway~ Adult Kiara Singing
Adult: Moira Kelly~ Adult Nala
Adult Singing: Sally Dworsky~ Adult Nala Singing
No one yet.
Community content is available under
CC-BY-SA
unless otherwise noted.